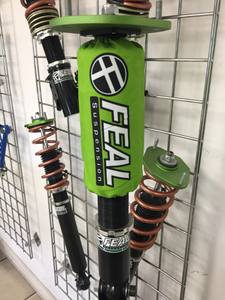 Two pairs will be needed to cover all four shocks.
Feal Shock Covers are made out of a super flexible denier material that compresses with the spring. The shock cover can easily be installed/removed via velcro. The ends of the cover are elastic to prevent the cover from sliding up or down the spring. The Feal Shock Cover helps prolong the life of your coilovers in all weather conditions by keeping debris out of the seals, shock shaft, and bump stop. We recommend them for your street car and or race car! Feal Shock Covers are very easy to install and remove via velcro. - Awesome lime green, tough, denier material - Velcro for easy installation/removal - Protects shaft, seals, and bump stop from debris - Increases life span of coilover - Fits our 60mm, 62mm, 65mm and 2.5" ID diameter straight-type springs.
Options:
Cover 8: For 7-8" long spring (fits most Feal 441 kits)
Cover 9: For 8-9" long spring (fits most Max Travel 441 kits)
Cover 10: For 9-10" long spring stacks (fits most Feal 441 kits that include helper springs such as the Pro Long Stroke kit).