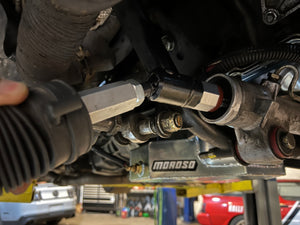 Heavy duty ball / socket style inner tie rod for 1994-2004 SN95 / New Edge Ford Mustang. 
Features ball and socket style rack end - motorsports grade component with all metal construction, adjustable preload, and rebuildable. In house machined rack end adapter facilitates installation to your Mustang rack with no set screws required. Much more robust method of creating the pivot at the rack end compared to clevis/heim joint style units which rely on set screws to maintain specific clocking position and tightness. 
In house machined 6061 aluminum center turnbuckle couples directly to the heim joint at the knuckle, or adapts to our cupped outer tie rod kit.