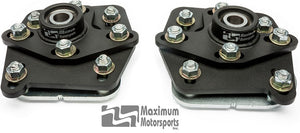 Upgrade to Maximum Motorsports Caster/Camber (MMCC) plates for the front set of Feal 441 coilovers.
Feal 441's come standard with an adjustable camber plate for the front upper mount (camber adjustment only!) By adding this product to your cart with purchase of Feal 441 coilovers for Foxbody/SN95/New Edge Mustangs and Cobras, Feal will exchange their camber plate for a set of MMCC plates, which allow for camber AND caster adjustment for the front of your Mustang.
Already own a set of MMCC plates? Select "adapter hardware only" from the drop down menu. Feal will remove their camber plate, and instead will send adapter hardware to allow for installation of the Feal shock rod into your existing MMCC plates. There is no additional charge for this option!